Fractional Differentiation and its Applications
Ankara, Turkey, 05 - 07 November, 2008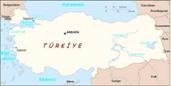 Ankara, the capital city of Turkish Republic, lies on the eastern edge of the High Anatolian Plateau at an altitude of 850 meters. It is bordered by the provinces of Çankiri and Bolu to the north, Eskisehir to the west, Konya and Aksaray to the south and Kirikkale and Kirsehir to the east. Being one of the most developed cities in Turkey, Ankara's history and that of the surrounding area dates back to the Bronze Age as the home of many civilizations including Hattis, Hittites, Phrygians, Lydians, Persians, Galatians, Celtics, Romans, Byzantines, Seljuks and Ottomans. Following World War I, Ankara became an important center for the Turkish Independence War and was declared as the capital of the new Republic of Turkey in 13 October 1923. The oldest parts of Ankara surround the ancient citadel. Within the walls, the 12th century Alaeddin Mosque, restored traditional Turkish houses which are used as art galleries or restaurants and Museum of the Anatolian Civilizations, and outside the citadel 13th century Aslanhane Mosque, 14th century Ahi Elvan Mosque, the 3rd century Roman Baths, 4th century Julian Column and 2nd century Temple of Augustus are worth visiting. Anitkabir, Ethnography Museum, the Painting and Sculpture Museum and the Independence War Museum are among the sites to see. Ankara is also a center of culture and art for opera, jazz, ballet, modern dance, film, art and music festivals.